Newsletter Ensemble Megaphon, April 2018
Dear friends of our ensemble,
We have hardly unpacked our suitcases from our trip to TIN PIT when the next project is already just around the corner, or rather on the stage. As part of the Sound Bridge Festival of the State Opera, which is dedicated to the work of the Italian composer Luciano Berio (1925-2003), we will be inspired by the work cycle "Sequenza". In the spirit of Berio's search for new possibilities of expression and the desire to invent new playing practices, we invent and find them with "Play it again Lenka". This title already contains the idea with which the Czech violinist Lenka Zupkova will premiere the graphic scores of the Dutch visual artist and composer William Engelen on three consecutive days. Each performance sequence, which will be recorded live, will add a layer on top of the previous one. In the first sequence, Lenka accompanies herself to a video on a monitor showing Lenka playing the score for the first time. Then Lenka Zupkova accompanies the first Lenka Zupkova accompanies Lenka on the video and finally Lenka accompanies Lenka accompanies Lenka on the monitor...... If Lenka has now turned into a loop in your/your head, this is already very close to our experiment, to which we cordially invite you/you all.
We are also very pleased that, thanks to funding from the Department of Social Affairs of the City of Hanover, we will also be able to offer three accompanying participatory workshops where young people will playfully examine their everyday life and develop their personal daily-life music piece from it.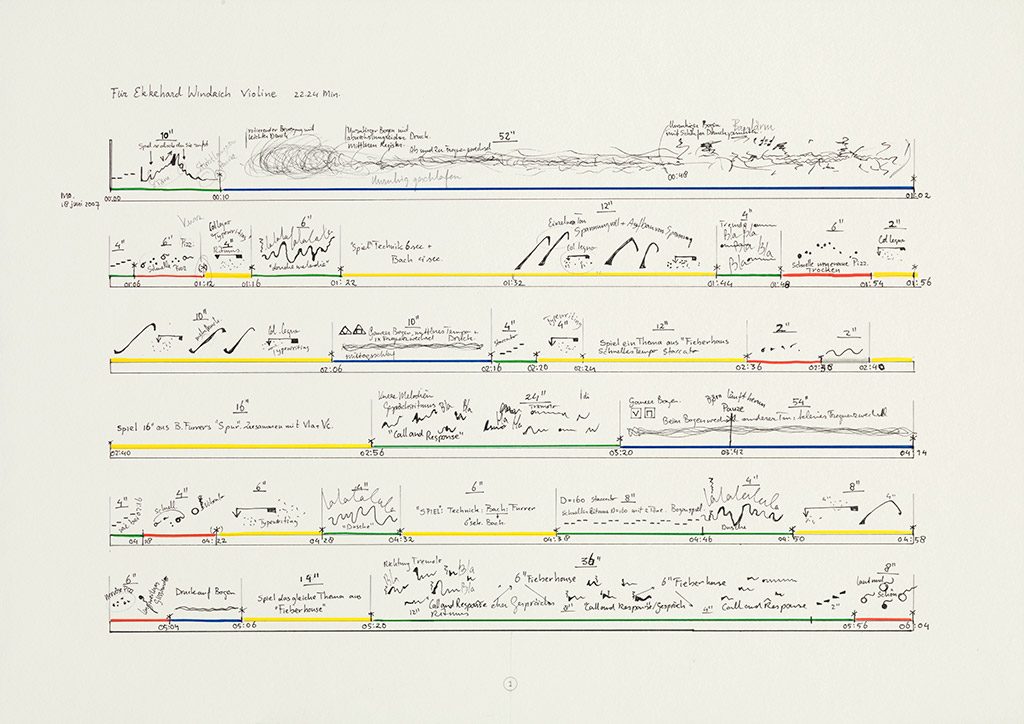 Play it again Lenka
Installative performance in the context of the Klangbrückenfestival of the Staatsoper Hannover
From 19 to 23.4.2018 on the theme of Luciano Berio
21.4. Foyer in the Ballhof at 7.00 p.m.
22.4. Foyer of the Hanover State Opera at 4 p.m.
23.4. Foyer of the Hanover State Opera at 6.30 p.m.
Admission: Pay what you can
Length of each concert approx. 20 minutes.
Contributors:
Lenka Zupkova: violin, piano, voice /Ensemble Megaphon
Composition: William Engelen
Sound direction: Andre Bartetzki
Lighting and camera: Tosh Leykum
More information on the concerts at: www.ensemble-megaphon.com.
We look forward to many melodious layers and stories with you and yours!
Your
Lenka Zupkova
Artistic direction Ensemble Megaphon