Newsletter Ensemble Megaphon, June 2018
"I am moving in this world
with forward flowing
Words
in all languages "
Poem by Tahere Asghary
Dear friends of our ensemble,
With this lyrical introduction, we would like to tempt you to a summer excursion in the region. More precisely, to the picturesque cultural estate of Poggenhagen. On the summer stage in the middle of the atmospheric park, we celebrate the delicate colourfulness of Persian and German poetry together with the Persian poet Tahere Asghary, weaving a shimmering and colourful tapestry of sound with oriental compositions and musical improvisations. Forward - in all languages is the name of this lyrical-musical park impression, which, as part of the Garden Region Hannover, makes you want to escape the city and explore not only new sounds, but also secluded wooded corners, lakeshores and meadow corners. Or treat yourself to some culinary delights in front of the magnificent neo-baroque façade of the manor house.
We look forward to welcoming you/if you accept our invitation to the "Froschwald" - which translates as Poggenhagen - it is only a short journey from Hanover and yet a very different, idyllic world....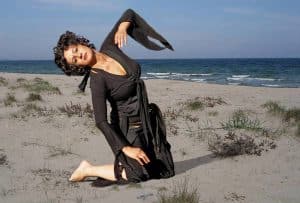 forward - in all languages
Lyrical ParkSounds and musical improvisations by Tahere Asghary and the Ensemble Megaphon
Kulturgut Poggenhagen, Summer Stage , Open Air
Sat, 16 June, 5 pm
Admission: Pay what you want
Duration of the concert 70 minutes without intermission
Address: Harms Manor 5
Public transport: S2 direction Nienburg
Event of the Garden Region Hannover
Further information  www.ensemble-megaphon.com
Yours sincerely, your ensemble, walking on summery paths!
Your
Lenka Zupkova
Artistic direction Ensemble Megaphon