Newsletter Ensemble Megaphon, June 2022
Dear friends of our ensemble,
We are very much looking forward to our special guests from Rouen, Kolkata and Adelaide, with whom we will be playing two multimedia concerts at Koki. On both evenings, unusual instrumentation and playing styles, including violin and electronics, as well as tabla and prepared piano, will be interwoven with video art and projections around the fascinating world of insects. Both evenings complement and accompany our Wandelkonzert project.... MUTELY AROUND. The end of the songwith which we will move on to the gardens of the Naturfreundehaus Hannover next Sunday after an enchanting premiere evening at the PLATZprojekt, accompanied by our guests from France.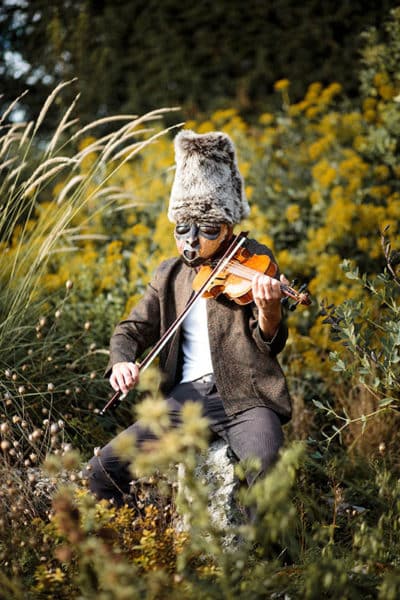 At the beginning of July, there will be another opportunity to join our procession, when we will be INFECTUS HANOVER on the trail of viruses and tangles trace the history of the epidemic in Hanover.
... MUTELY AROUND. The end of the song
Open Air Convertible Concerts on Insects, Nature and Sound
Concerts, keynote speeches and workshops
Sun, 19.06, at 18:00, Friends of Nature House, Guest artist: RédèR Nouhaj/ E-Violin (Rouen)
10.07., at 6:00 p.m., kik.art in contact,
Guest artist Sandip Gosh (Kolkata) and Ashley Hribar (Adelaide)
28.08., at 6:00 p.m., Mesh pond
Sun, 11.09, at 18:00, Open Space Hannover e.V. at the PLATZProject
All parts of the event follow the idea "Pay what you can". Limited places, reservations under stummherum@gmail.com
---
VIDEO CONCERTS with artists from Rouen, Kolkata and Adelaide:
Mute Around: Music for Insects
Multimedia concert with Frédéric Jouhannet (electric violin),
Lison De Ridder (overhead projections and drawings) and Ensemble Megaphon
17.06., at 7:00 pm, Kino im Künstlerhaus Hannover
Mute around: Insects Landscapes
Multimedia Concert with Sandip Ghosh(Tablas) Ashley Hribar(Piano)Tosh Leykum (VJ and Videoart) and Ensemble Megaphon
24.06. at 19:00, Kino im Künstlerhaus Hanover
VVK and prices:  http://www.koki-hannover.de
---
A musical-theatrical walk in the footsteps of the history of the epidemic
Sat, 02.07.22 and Sun, 03.07.22, respectively 19:00 – 20:30 Clock
Meeting point: Entrance Nikolai Chapel, Goseriede
Tickets via Reservix and at the box office from 18:30 Clock.
Route approx. 1 km, no stairs / wheelchair accessible (no stairs).

If it rains, the performance will take place in the RAMPE, Gerhardstr.3, Hanover-Nordstadt at 7:30 pm.
---
Whether here or there, we look forward to seeing you and wish you an eventful summer.
With warm regards
Lenka Župková
Artistic direction Ensemble Megaphon.