Newsletter Ensemble Megaphon, March 2022
Dear friends of our ensemble,
The war against Ukraine leaves us stunned, but as an international ensemble that lives and understands music as a universal language across all conflicts and nationalities, we are not speechless.
Thus, as a sign of solidarity, we will present our programme for the first part of the series "Never a Breather I." - im within the framework of the Sound Bridges Festival 2022 - to include the commissioned composition by the Kiev-based composer Alla Zagaykevych. She wrote Punktum reditum. 2016 in response to the Maidan events and the occupation of Krym. The harbingers of war, as we must unfortunately understand today.
Before that we are at the 3 April with our Wandelkonzert Lifelines Guest at the Markuskirche Hanover . We are very much looking forward to this evening of music, dance and poetry from 8 centuries by singers from the Braunschweig Young Chamber Choir ,under the direction of Steffen Kruse, to be accompanied.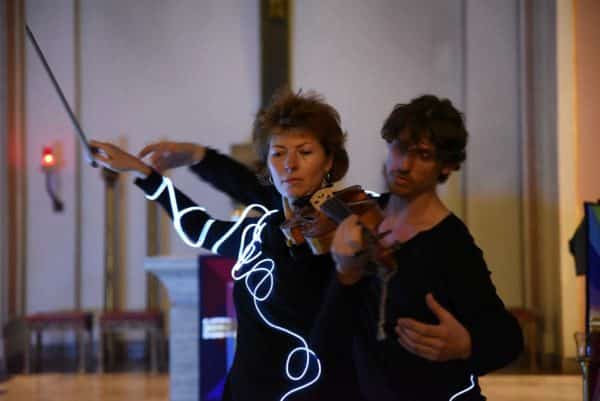 Photo: Joachim Puppel
Lifelines
Wandelkonzert with music, dance and poetry from 8 centuries
Sunday, 3 April 2022, 7:30 pm, Admission: 6:30 pm
Place: St Mark's Church Hanover
Tickets for 15 euros/ discounted 10 euros are available at the box office.
Free tickets:
We invite all people who have fled Ukraine due to Russian military actions to the concert. Admission is free.
Запрошуємо всіх покинувших Україну із-за російських воєнних дій, на концерт. Вхід безкоштовний!
---
"Never a Breather I."
A KLANG-RAUM-ZEIT-LICHT laboratory project as part of the KLANGBRÜCKEN 2022 Festival
Tuesday, 26 April, 7:30 pm,
Place: Ballhof Two
Tickets: € 20,- reduced: € 9-11,- Order under 0511 9999 1111, kartenservice@staatstheater-hannover.de
With great hope and longing for peace!
Sincerely
Your
Lenka Zupkova
Artistic direction Ensemble Megaphon.