Newsletter Ensemble Megaphon October 2019
Amor Dormiglione - Sleepyhead Amor

Cupid, sleep no more! Up, up! Wake up!
For while you sleep, my pleasures also sleep, and troubles awake. Be not behind. Up, rays and fire!
O lazy one, slow one, you have no understanding, stupid, cowardly Cupid! Oh, what a one I remain, that you sleep in my embers!
Cupid, sleep no more! Up, up! Wake up!

B. Strozzi
Dear friends of our ensemble,
sleepless and drunk with joy, we are currently moving from rehearsal to rehearsal between three wonderful churches and their respective unique organ sounds.
There we combine the works of Barbara Strozzi with the perspective of three contemporary female composers and writers on the work of the baroque artist on the occasion of her 400th birthday. In addition to Strozzi's virtuoso tone-painting arias, three premiered works are on the programme of this sound radio play for organ and chamber ensemble. And the life and smile of Da Vinci's Mona Lisa is also an inspiration for the stories we tell in SLEEPLESS LOVE  sonorous narration. Rarely have baroque ideals and modern forms of female expression been thought together in this way!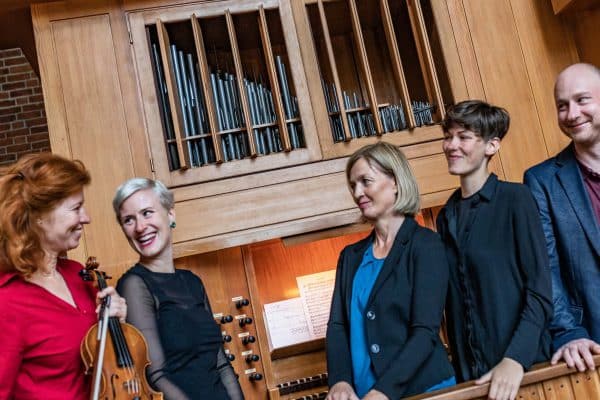 ---
30.11. 2019 St. Nicolai Bothfeld Hanover, 7:00 pm
5.12. 2019 Basilica St. Clemens, Hanover, 7:30 pm
7.12. 2019 Emmaus Church, Langenhagen, 7:00 p.m.
Sleepless love – Three sound-painting live radio plays for organ and chamber ensemble
The event will take place within the framework of the Campaign Hoch empor. Organs in Lower Saxony will take place, a joint initiative of Musikland Niedersachsen and the Lower Saxony Ministry of Science and Culture on the occasion of the Arp Schnitger anniversary year 2019.
VVK via Reservix and at the box office on site, 30 min. before the concert
Basilica St. Clemens € 10,-/erm. 8,-, Nicolai and Emmaus Church € 7,-/erm. 5,-
Further information : www.ensemble-megaphon.com
---
Explore the mysterious paths of Mona Lisa's heiresses with us!
In sleepless anticipation
warmly
Your
Lenka Zupkova
Artistic direction Ensemble Megaphon