Newsletter Ensemble Megaphon, October/November 2018
Everything you can see, 
has its roots in the invisible world.
The forms may change,
the essence remains the same.
Jalāl ad-Dīn ar-Rūmī
 Dear friends of our ensemble,
Once again, we are reporting briefly from the hustle and bustle of rehearsals under the beautiful dome of St. Clement's Basilica, where we will be performing next week. Saturday 27 October with our project LIFELINES will celebrate its premiere. On this evening, we will build a poetic-sound and light-artistic bridge from the mystical music of the 12th century to traditional Arabic Sufi music and today's electro-acoustic improvisations, and we are very pleased to be able to trace our lifelines in such a special place.
The project takes place within the framework of the HANOVERIAN INCLUSIVE SOUND FESTIVAL (HIS)
In November we will then perform a second time as part of the silent film concert series in Braunschweig. At Friday, 2.11. we set the 1920 silent film classic to music live there. The Cabinet of Dr Caligari . With violin and electronics, percussion and sound objects, prepared piano and woodwind instruments, we set the cult film by director Robert Wiene, which is considered a prime example of the expressionist style, to music and thus set to music the story of the mad Dr. Caligari, who, with the help of the somnambulist Cesare, terrifies a small town.  We bid farewell with the wise words of Jalāl ad-Dīn ar-Rūmī: The paths are many, but the goal is one.   And look forward to seeing you and yours there or thereabouts!
Sincerely
Your
Lenka Zupkova
Artistic direction Ensemble Megaphon
---
LIFELINES - An encounter with music of Christianity, Islamic Sufism and video projections -
Sat, 27 Oct, 7.30pm - St Clement's Basilica
Tickets for 12,-/erm. 8,- €., are available under Tickets at www.reservix.de or at the box office on site. Admission is free for refugees - they can simply get their tickets at the box office.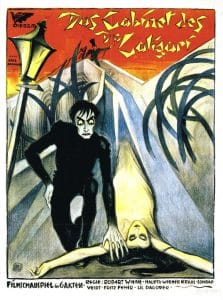 THE CABINET OF DR. CALIGARI- as part of the silent film concert series of the Cultural Institute of the City of Braunschweig
Fri 2.11.2018, 7:30 pm -
Red Hall in the Castle, Schlossplatz 1, 38100 Braunschweig