Newsletter Ensemble Megaphon, August 2020
Dear friends of our ensemble,
We hope that these lines find you healthy and hopeful despite many changes and restrictions. We, too, would like to contribute to making these times more socially distant but no longer more culturally sparse and are looking forward to two very different formats. At the end of August, at the invitation of the cinema in the Künstlerhaus, we will be presenting Tightrope walker without net a two-part evening with a scenic setting of poems by Mascha Kaleko and a live soundtrack of the silent film classic People on Sunday by Robert Siodmak.
As part of Zinnober, we then invite you to the first part of our concert tours in four galleries and art venues in Hanover. We start on 5 September at Atelier Block 16. MOVED! transfers its title quite literally to musicians, audience and art. We look forward to sounding walks and excursions with you and yours.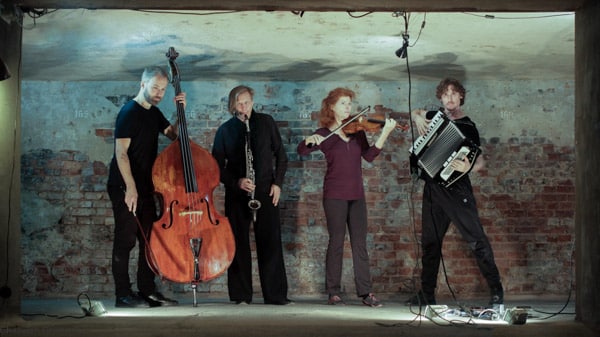 SoundTRAX Open Air -Music and Film at the Summer Cinema: Tightrope walker without net
Fri. 28.8.2020 and Sat. 29.8.2020, both 20:30 hrs.
Admission: 12 €/10 € reduced,  Ticket reservation and advance booking: 0511/168-45522, KokiKasse@Hannover-Stadt.de
Monday - Friday 12.00 to 18.00 and at the box office.
The box office opens 30 minutes before the start of the performance.
In case of rain, the event will take place in the Künstlerhaus.*
MOVED! - Concert in the framework of Zinnober
5 September 2020 at 5 p.m. and at 6 p.m. (duration approx. 30 min.)
Studio Block 16 e.V
Edwin-Oppler-Weg 14, 30167 Hanover
Admission is free, please make reservations in advance at blickpunkteverein@gmail.com
Further information: www.ensemble-megaphon.com
Until we meet again here or there, have a summery and healthy time.
Sincerely
Your
Lenka Zupkova
Artistic direction Ensemble Megaphon
The organiser undertakes to comply with all hygiene regulations in force at the time of the concert. Due to these regulations, all persons must keep a distance of at least 1.50 m at all times and existing distance markings on the floor must be observed. The wearing of a mouth-nose protection does not release from the distance regulation. One's own mouth-nose protection must be brought to the event.