Newsletter Ensemble Megaphon, February 2023
Dear friends of our ensemble,
We have used our winter break to summarise an eventful year in words and pictures. On our homepage you will find information on all the Projects Pictures, texts and videos of the performances and thus the opportunity to recall with us what we have experienced or to look up what we have missed. Short trailers, compiled by Andre Bartetzki, for a short time travel through the year 2022 can also be found here:
Never a pause for breath
Pinocchio Fake News
Winter travel
Sound and silence
"... MUTELY AROUND. The end of the song".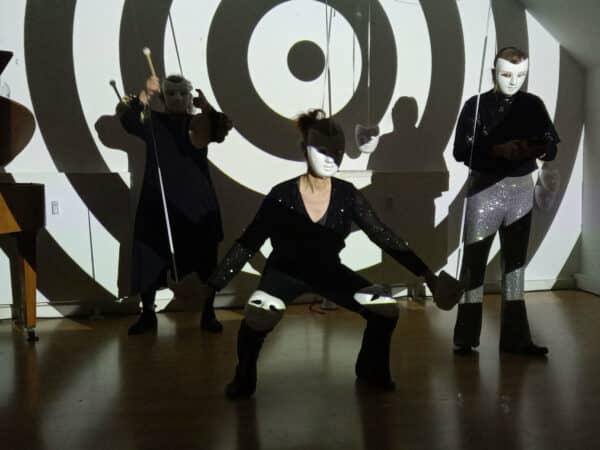 Photo: Pinocchio Fake News. - Sofie Puttfarken
Thanks to nationwide funding, we were able to work on many different topics and to explore them in depth over longer periods of time. For example, the extinction of species and insects, and thus the silencing of our environment, were the focus of our open-air concert. "... SILENTLY AROUND. The end of the song". in focus, as well as the theme of totalitarianism in our media concert series Never a pause for breath I.-III.
Another heartfelt project was also the sensual and shared immersion in silence and the essence of the moment with "Between Sound and Silence". In a very difficult year in terms of world politics, we have the feeling that we have used our means to show perspectives for a more peaceful, just and conscious coexistence of all and we are very happy that we had you and you at our side as a sympathetic and committed audience! We are also pleased that our artistic work has been recognised with the Cultural Award 2022 of the Regional Church and take all this with passion as a mission to create space for listening perspectives and perceptions for socially important topics and dialogues in the new year.
And so that words are followed by deeds, we are guests on 23 March in the NDR broadcasting hall with Aufwiegeln?! And hope to see you there again!!!
Aufwiegeln?!
As part of the concert series by Music 21 on NDR 2022/23 "Tipping Points
Thursday, 23rd March 2023 at 8.00 p.m.
Small broadcasting hall at NDR
Box office at NDR ticket shop:
 ————————————
Warmest greetings
Lenka Župková
Artistic direction Ensemble Megaphon.