Newsletter Ensemble Megaphon, March 2023
Dear friends of our ensemble,
kommende Woche erforschen wir im Rahmen der Konzertreihe "Kipppunkte" die ermutigende und besänftigende Seite der Musik durch die unterschiedlichen Zeiten und Stile. Neben ausgewählten Liedern von Franz Schubert, werden auch kammermusikalische Werke von u. a. Olga Neuwirth, Tatjana Prelevic und Moritz Eggert den Sendesaal des NDR mit sehr unterschiedlicher Tonalität bis zu revolutionären Schwingungen erfüllen. Wir freuen uns wenn Ihr und Sie Teil dieses Aufwiegeln?! –den Abends werdet.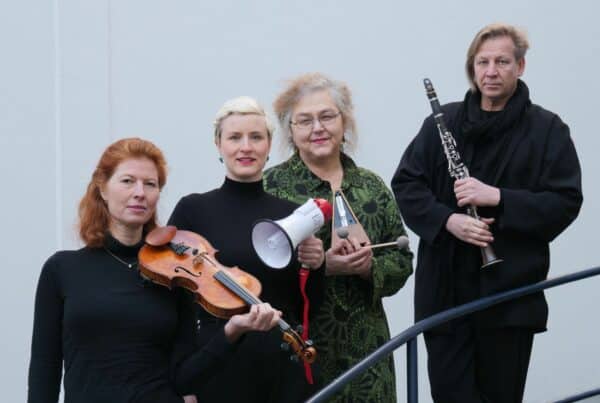 Gleichzeitig arbeiten wir derzeit schon an unserem neuen Projekt: POLYTOPIA / Die Poesie der Maschinen, Eine Klang-Licht-Raum-Inszenierung mit Musik von Iannis Xenakis, eigenen Stücken, kinetischen Objekten und Film, mit dem wir unter anderem beim Klangbrückenfestival 23 zu Gast sein werden.
Aufwiegeln?!
As part of the Musik 21 concert series at NDR 2022/23 "Kipppunkte" (Tipping Points)
Thursday, 23rd March 2023 at 8.00 p.m.
19:30 Uhr Einführungsgespräch mit Musiker*innen und Dr. Klaus Angermann
Small broadcasting hall at NDR
Box office at NDR Ticketshop:
Duration approx. 60 minutes without break
POLYTOPIA / Die Poesie der Maschinen
with music by Iannis Xenakis, own compositions and art films.
Within the framework of the festival SOUND BRIDGES in honour of Iannis Xenakis
Sunday, 30th April 2023 at 3.00 pm
Sprengel Museum, Auditorium
70 min. without break
Admission: 15,-/10,- €
Tickets: Reservix and at the box office on 30th April at the Sprengel Museum from 2.30 p.m.
In Vorfreude auf einen aufwiegelnden wie poetischen Frühling,
warmly
Lenka Župková
Artistic direction Ensemble Megaphon.