Newsletter July 2022 - Culture Award for Ensemble Megaphon
Dear friends of our ensemble,
It is with great pleasure that we can inform you that our ensemble has been awarded the 2022 Culture Prize of the Evangelical Lutheran Regional Church!
This announcement came as happily as it did surprisingly for us, as it is not possible to apply for this prize. A nine-member jury from the arts, culture and the church selected our ensemble from a total of 37 proposed projects that were recommended to it by 25 so-called scouts from the church, socio-culture and the arts. The culture prize is endowed with 10,000 euros. We also warmly congratulate our friends from the Cameo Kollektiv e.V., who will receive the 2022 Culture Promotion Prize, which is endowed with 5,000 euros. The patron of the Culture and Cultural Sponsorship Award is Bishop Ralf Meister.
We are pleased that this prize recognises our many years of intensive intercultural and interdisciplinary work, as well as our openness to finding new creative ways to ask human and socially relevant questions. And always in dialogue with you, dear audience, which is why this prize also goes to all those who have faithfully accompanied, promoted and supported our ensemble!
The award ceremony will take place on 27 September in the Michaeliskloster in Hildesheim.
Until then, of course, we will not remain idle:
Our August issue of ... MUTELY AROUND. The end of the song invites you this time to the green heart of the city at the Maschteich, where we will search for traces of the smallest inhabitants in the shade of the venerable old trees.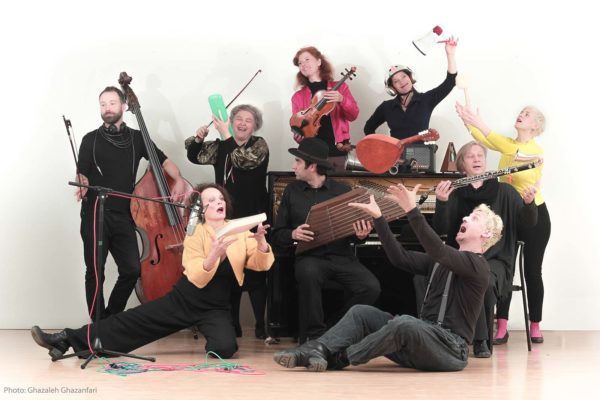 Photo: Ghazaleh Ghazanfari
... STUMM HERUM. The end of the song
Open Air Convertible Concerts on Insects, Nature and Sound
Sun, 28.08.2022, Mesh pond
18:00: Sound actions
7:00 pm: Wandelkonzert
In the bad weather in the Gallery Cube
Sun, 11.09.2022, Open Space Hannover e.V. at the PLATZProject
17:00 Site is open/You can bring your own picnic basket
18:00 Impulse lecture about wild bees
18:30 Sound actions
19:00 Wandelkonzert
All parts of the event follow the idea of "pay what you can" and will be moved to alternative venues in case of rain. Limited places, reservations under stummherum@gmail.com
Kind regards
Lenka Župková
Artistic direction Ensemble Megaphon.