The Soldier's Tale - Music by Igor Stravinsky
based on fairy tale motifs by Alexander Afanassjew and the text by Charles-Ferdinand Ramuz.
Within the framework of the
MICHAELISKLOSTER CONCERT SERIES & THE CLOISTER FULL OF LIGHT AND MUSIC 2019
New musical experiences in old walls.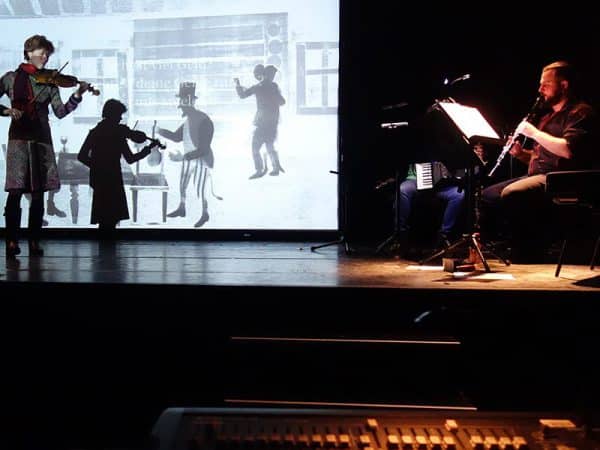 In the story of the soldier, the soldier makes a daring bargain with the devil: he trades his beloved violin for a book of spells that promises him great riches, but loses his bride and all his friends. In the end, he tries to reclaim his violin and undo the pact with the devil...
The Ensemble Megaphon performs the magnificent music of the Russian composer Igor Stravinsky in an extended version of the originally purely concertante five-movement suite from "L'Histoire du Soldat" (1919). Through the drawings and animations of Anja Tchepets (St. Petersburg / Berlin), the experiences of the soldier are brought back to the stage as poetic video projections.
Performances
Fri. 08.11.2019, 8 pm, Auditorium of the Michaelis Monastery
Admission:
Admission (box office only): 15 € (reduced 10 €)
Tickets for concerts in the Michaeliskirche are available at www.adticket.de.
Remaining tickets are available at the box office 45 minutes before the start of the event.