A sound-light-space production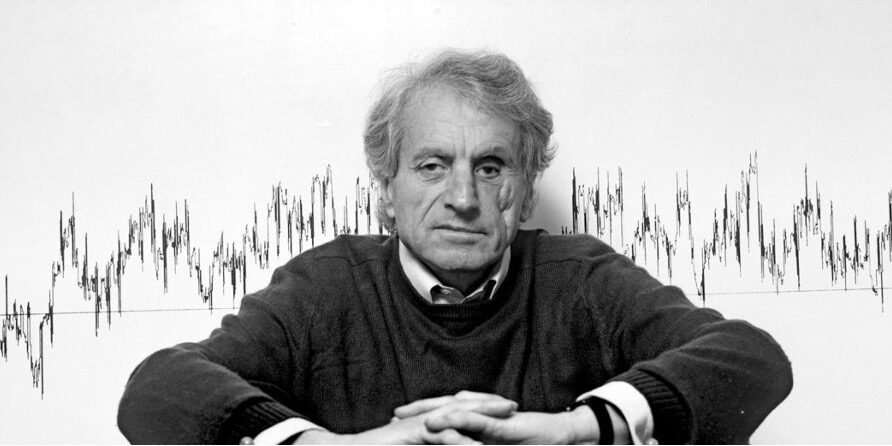 with music by Iannis Xenakis, own compositions and art film.
As part of the KLANGBRÜCKEN festival in honour of Iannis Xenakis
Sunday, 30th April 2023 at 3.00 pm
Sprengel Museum, Auditorium
70 min. without break
Admission: 15,-/10,- €
Tickets: Reservix and at the box office on 30th April at the Sprengel Museum from 2.30 p.m.
"We are just a tiny dot in the universe. I am not interested in the dot.
I'm interested in the universe."
"The listener must be grabbed and pulled into the trajectory of the sound."
Iannis Xenakis
Idea
Polytope' - under this title, composer, civil engineer, architect and rebel Iannis Xenakis created several spatial compositions, which also included his close collaboration with star architect Le Corbusier. The Ensemble Megaphon follows the concept of overlapping spaces of light, colour, sound and architecture in one place with the idea of the spatial production 'POLYTOPIA'. Here it combines Xenakis works with its own compositions and conceptual improvisation to create a space-sound-light installation. The black and white art film by filmmaker Thomas Bartels forms another creative level. Here, the spiral forms of Xenakis' graphic scores 'Polytope' find their continuation in manifold areas, such as technology and nature. The filmic projection surfaces and the changing playing positions of the musicians place the music as well as the stage space in ever-changing contexts and the ensemble, as a further creative element of the production, invites the audience to help determine the course of this 'POLYTOPIA'.
Programme
Works by Iannis Xenakis: "Gendy3" for electroacoustic (1991), "Mikka" for violin solo (1971), "Six Chansons" for piano (1951), concept pieces by the Ensemble Megaphon with art film by T. Bartels
Ensemble Megaphon
Lenka Župková - Violin, Artistic Direction
Tatjana Prelević - piano, composition
Vlady Bystrov - Clarinet
Andre Bartetzki - live electronics, sound direction
Guest artist: Thomas Bartels-Art film